One question we sometimes get is "where do our clients live?"   We decided to take a look, and the findings may surprise you.
Clients and friends often assume that most of our clients live in the Ann Arbor area, but just over a quarter of our clients actually reside in Ann Arbor. And while the majority of our clients reside in Michigan, we have clients spread across the country.
Currently, Vintage serves clients in 25 states plus the District of Columbia, ranging from New York to Florida, across to southern California and Washington state. The map below illustrates the breadth of our client base.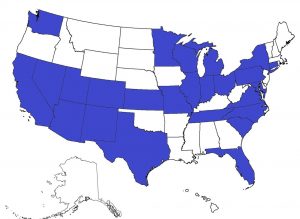 Given virtual meeting technology, interactive financial planning software, and our investment portal, ModestSpark, we can provide the same client experience regardless of where you call home.
If you know someone looking for a fee-only financial planning firm that does detailed tax planning and preparation, retirement planning, and investment management, we're happy to have a conversation with them, whether they live down the street or across the country.